*Tax (if applicable) and Shipping are calculated at checkout
Order today, and with Standard Shipping, you'll receive your package between and .
Faster Shipping options available at checkout!
#1 Graduated Compression Socks for Men and Women
The Ultimate Gradual Compression Sock. Available in Multiple Colors and Sizes!
Great for combating against Plantar Fascitiis, Varicose Veins & Diabetic swelling.
High performance – support socks with fibers to wick away moister!  By adding the technology of graduated compression, this sports sock gives you the added benefit of improved circulation while performing any sport or leisure activity.
Frequently

Asked

Questions
Blood from your legs must overcome gravity to return to the heart and lungs, where it is re-oxygenated and travels to the brain, vital organs and the rest of the body. Blood circulation to the legs is often affected when people stand or sit for long periods of time and as people age.
This is a common problem in our modern world when desk jobs and long standing jobs are a part of everyday life. Problems that could arise from poor circulation may include, aching, swelling, stiffness and weakness in the legs and feet. These symptoms can develop into varicose veins or Deep Vein Thrombosis (DVT).
Compression socks boosts your circulation and helps support your veins. Increased blood flow in your veins means more oxygen and nutrients flowing to your legs.
Anyone can benefit from wearing our products. Most people don't achieve optimal circulation in their legs which can cause leg fatigue, swelling and varicose and spider veins. Our Graduated Compression Socks can help with all of these issues. Our compression socks are specifically designed for everyday wear and can benefit anyone.
You can wear them every day! Make sure to wash the socks after each wear in order to maintain the shape and compression level for each wear. You can machine wash them but air drying is preferred.
Wearing compression socks to bed is entirely up to you based on your comfort level. It is safe to sleep in the socks, but if you find it uncomfortable or experience any kind of pain, you should cease sleeping in compression socks immediately.
Graduated compression socks help promote circulation in your legs. Graduated compression socks apply a certain amount of pressure near your ankle and then apply gradually less and less pressure as they move up the leg. Our graduated compression socks are 20-30 mmHg and applies the perfect amount of pressure on your calf and foot.
Just because a sock is tight does not mean it's a compression sock that offers the same health benefits. In fact, some tight socks can actually inhibit the flow of blood. Our compression socks are designed with a gradient pressure technology featuring our medical grade compression graduated technology. The ultra gradual compression starts at the ankle and goes up the leg, ensuring maximum comfort and effectiveness. We developed our socks with the assistance of vascular surgeons and vein clinics, and also test our product to ensure it offers an accurate compression level.
1. Soak your compression socks in a small tub, sink or basin filled with cool water then remove. Add a mild detergent or soap to the water and mix the water with your hand to circulate the soap. Place the socks back in the soapy water and let them soak for 5 to 10 minutes.
2. After soaking, gently rub the stockings to remove any dirt and oil. Squeeze them out and rinse to remove any soap. Be sure to squeeze them gently and do not pull the stockings as pulling can result in an imperfect fit when trying to wear them again.
3. Once rinsed lay the stockings out flat dry or hang the stockings out to dry. Do not place the wet socks heat and d o not wring them as it may damage the weave of the compression stocking.
4. For machine wash, place the socks in a linen or mesh laundry bag for extra protection and wash using a gentle cycle.
Additional Tips:
Do not use fabric softener or a detergent with a softener, as this will damage the fiber.
Avoid drying directly in the sun or on a radiator.
Wash your socks after each time you wear the socks. Washing brings back the elasticity to the socks and removes build up of oils and dirt.
Do not wear a pair of compression socks for more than three Months. Many people replace their compression socks after 2 months. Just because the socks may look good does not mean that they still have the proper compression.
Features:
Anti-Bacterial
DVT Protection
Graduated Compression (30 - 40 mmHg). A must have for men, women and elder at any age. The superior grade circular knit structure delivers 360-degree stretch for greater flexibility and durability. Stay put Cuffs Soothing feeling at the bottom and sides of foot, with no pinching.
High Performance Yarn
Advantages of our Compression Socks:
Improved Recovery – Therapeutic rated fabric provides greater pressure and recovery benefit leading to faster muscle repair.

Decrease swelling and inflammation –  Reduces pain from fallen arches, plantar fasciitis, varicose veins and muscle injuries.

Improved Circulation – Faster warm up and improved oxygen circulation. Encourages blood to the muscles and flush by products away.

Reduced Fatigue – Reduces muscle vibration (linked to muscle fatigue) improves muscle endurance and strength.

Reduced Damage – Performance Compression Sock muscle containment can reduce soft tissue damage in contact and intense sports.

Preventative support and aided recovery.

Heightened Proprioception – Heightened body position sense for enhanced stability and agility.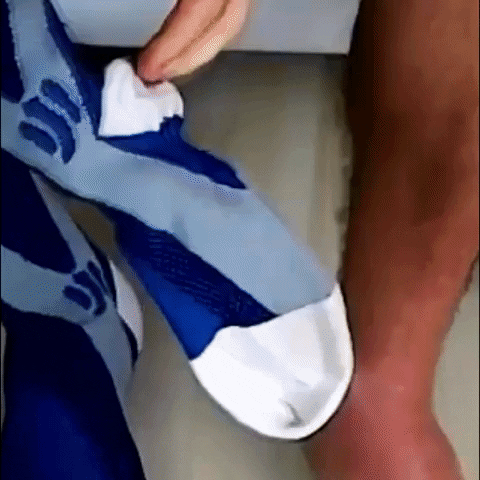 Place arm in sock palm to heel and grab heel with thumb like a puppet

Pull top of sock down and inside-out

Place foot in sock and pull over heel up to the knee
How do I know what size to get?
The different sizes, small medium large extra large, correspond to different shoe sizes. The sizes are meant to be equal to your shoe size.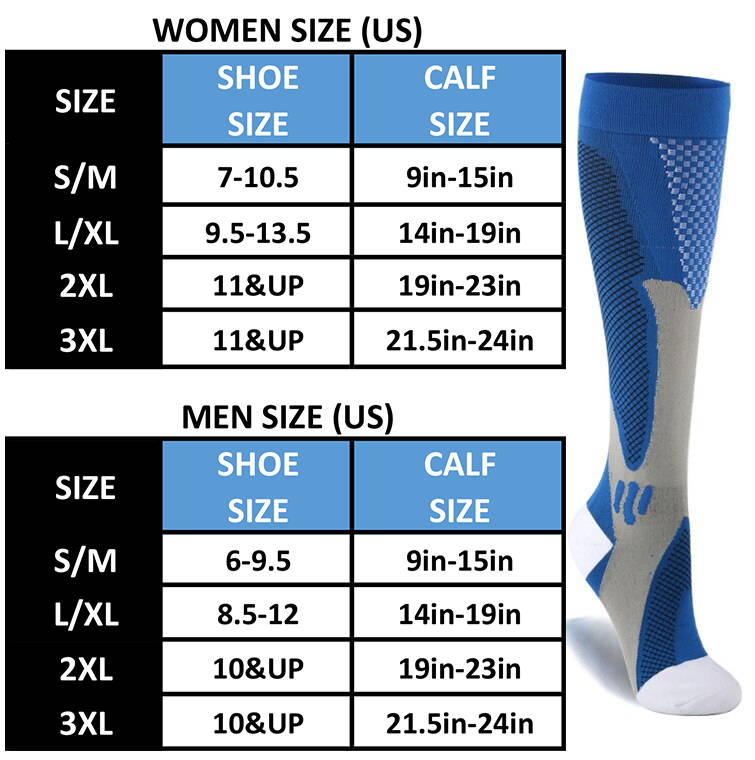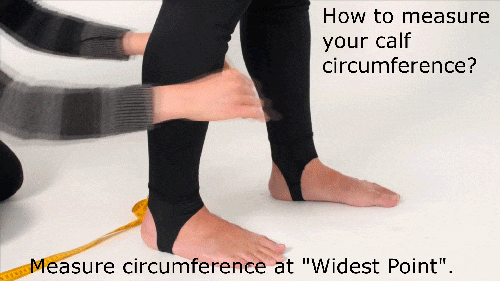 Why Shop Top USA PRODUCTS?
Shipping FAQ's
We ship directly from our inventory warehouse, located in the USA (Los Angeles, California).
We ship orders Monday–Friday. We process and ship-out orders within 1 business day (Mon-Fri), a timeline which does not include weekends (Sat-Sun) or holidays.
All orders are processed at 12:00PM PST(noon).
If you have made your purchase prior to the 12:00PM PST (noon) cut-off time, then your order will ship the same-day.
All orders placed after the 12:00PM PST (noon) cut-off time will ship the following business day.
For customers within the United States, your order should arrive within 2 - 5 business days after processing via USPS First Class Package Service, and withing 1 - 4 business days after processing via USPS Priority Mail Service.
Need your package sooner? Faster shipping options are available at check-out!
YES! We offer Priority Mail (1-4 Days) and Priority Mail Express (1-2 Days) at checkout!
We offer shipping services to all 50 states as well as all U.S. territories, which include Puerto Rico, Guam, US Virgin Islands, etc..
SATISFACTION GUARANTEED, EASY REFUNDS, AND 30 DAYS MONEY BACK
We believe our products are truly innovative and have 100% confidence in it. We understand that buying things online can be scary with companies not staying true to their customers so we go the extend to keep you satisfied.
If for whatever reason you decide you are not satisfied with the product don't worry. Just call us or send us an email at sales@TopUSAProducts.com and we will make it right by offering you a replacement or refund. 100% Simple and Risk-Free process.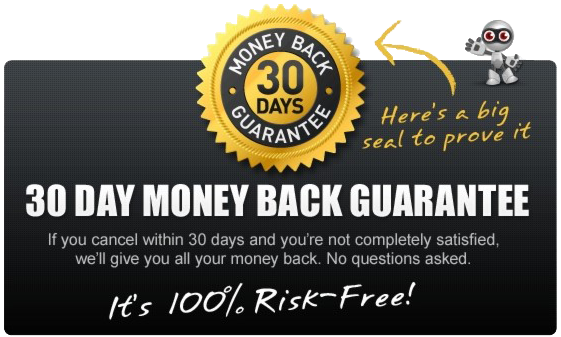 choosing a selection results in a full page refresh
press the space key then arrow keys to make a selection